Latest news
Knowledge Base
Articles
Other Stuff
Radicore Website - Legal Notice
This site is owned and operated by Radicore Software Limited (RADICORE).
Use of materials on this web site:
RADICORE hereby authorizes you to view, download, print, copy, distribute, and use the materials published by RADICORE on this web site, provided that:
No modifications are made to materials without the prior written permission of RADICORE.
Images from this site, including RADICORE logos, are not reproduced or posted to your website without the prior written permission of RADICORE. The only exception is the "powered by Radicore" logo (see below).
Materials are used solely for only informational, personal or non-commercial use within your organization and are not copied or posted on any network computer or broadcast in any media without the written permission of RADICORE.
A copyright notice, the following text as an example, appears on all materials: "Copyright © 2006 Radicore Software Limited. All Rights Reserved".
The copyright, trademark, and other proprietary notices are not removed from the materials.
By viewing, downloading, or using etc. any of the materials published on this web site, you agree to the terms of this Legal Notice. If you do not agree, you should not view, download or use these materials.
All materials on this web site including software and accompanying documentation are protected by copyright. Ownership is retained by the copyright holder and is not transferred to you. Except as specified above, nothing is to be construed as conferring any license or right under any patent, trademark or copyright of RADICORE or any third party. Use of software from this site is subject to the RADICORE license provided with the products.
Any reproduction or redistribution of the materials on this web site not in accordance with the permission described above is prohibited by law and may result in severe civil and criminal penalties.
Your access to this web site is governed by applicable law. All information on this web site is subject to UK export control laws and may also be subject to the laws of the country where you reside.
This publication is distributed internationally and may contain references to RADICORE products, programs and services that have not been announced in your country. These references do not imply that RADICORE intends to announce such products, programs or services in your country.
Warranties and limitation of liability:
The information on this web site is presented "AS IS" WITHOUT WARRANTY OF ANY KIND. RADICORE HEREBY DISCLAIMS ALL WARRANTIES, WHETHER EXPRESS OR IMPLIED, INCLUDING THE IMPLIED WARRANTIES OF MERCHANTABILITY, FITNESS FOR A PARTICULAR PURPOSE, OR NON-INFRINGEMENT.
RADICORE makes reasonable efforts that the materials on this web site are accurate but does not make any representations as to the accuracy or completeness of the materials. Information may be changed or updated without notice. RADICORE may also from time to time revise this Legal Notice by updating this posting. You should periodically visit this page to review the current Legal Notices so you are aware of any revisions by which you are bound.
You use this web site at your own risk. RADICORE is not liable for any damages arising from use of this site.
Links to other sites:
RADICORE makes no representations whatsoever about the quality, nature or reliability of any other web sites you may access through this web site. A link to a non-RADICORE site does not mean that RADICORE accepts any responsibility for or endorses the content of that web site.
Responses to the web site:
If you respond to RADICORE about materials presented on this web site with questions, comments or similar feed-back, your response will be non-confidential. By sending RADICORE the response you grant RADICORE an irrevocable unrestricted license to use, reproduce, distribute, and modify the information in your response and you agree RADICORE is free to use for any purpose whatsoever any ideas or concepts contained in your response. However, RADICORE will not release your name or publicise the fact of your response unless:
you give permission,
you are first notified before you respond to a particular part of this site that any response may be published and used, or
it is required by law.
See RADICORE's Privacy Policy for more information.
Copyright and trademark information:
The copyright notice below and the list of trademarks and registered trademarks owned by Radicore Software Limited applies to each individual RADICORE document presented on this web site.
All other trademarks or registered trademarks are the property of their respective owners.
Should you wish to advertise the fact that your web application is built on the Radicore framework you may include the following "powered by Radicore" logo: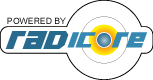 This can be achieved with the following HTML code:

<a href="http://www.radicore.org">
    <img alt="powered by Radicore" 
    src="http://www.radicore.org/img/powered_by_radicore.jpg" 
    height="80" width="153" />
</a>